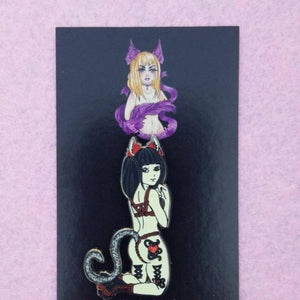 Pin Club Exclusive Neko Me-ow Hard Enamel Pin
Originally only available to those in the pin club dedicated the deviously deviant.
Extremely limited. 
This delightful hard enamel pin depicts yours truly as a little nekogirl by my friend Ironyokai. 
Each pin stands at 1.75 inches.
Each pin features gun metal black raised metal plating.
Each pin features a text backstamp that reads "Ironyokai x Miss Myzaree".

Each pin features dual posts with a rubber clutch backing.
This pin is ready to ship! Please allow for 5 business days for handling and processing excluding shipping time.
Collector Grade / A grade - no real visible flaws.
Standard Grade / B grade - small flaws like over buffed metal fill or low enamel fill.
Wear Me - multiple flaws.
Original art created by Ironyokai for Dark Delights Shop based on Miss Myzaree.
Did you know when you support my shop you're not only supporting a small business but 10% of every purr-chase is donated to charity. This includes pre-orders! Not only are you getting a great steal but you are also contributing to a brighter better future.