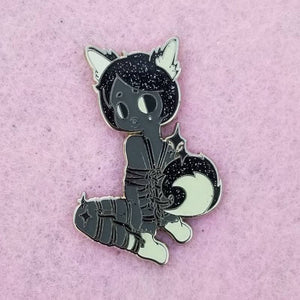 Con Exclusive Neko Boi Tied Up Hard Enamel Pin
Dark Delights Shop Con Exclusive Neko Boi Tied Up Rope Bondage Hard Enamel Pin
This delightful hard enamel pin depicts the sweetest Ahego Neko boi tied up with rope bondage. Features glitter hair, and tail on this beautifully contrasted Hard enamel pin.  Perfect for anyone who is into the Neko culture or petplay lifestyle.
This variation of the design is extremely limited and only 25 pieces were printed.
So, what is a neko boy?
If you are already a weeb you already know the concept well but if you are just dipping your toes neko comes from the Japanese language, simply meaning cat. So a neko boy, is a cat boy. 
But wait what does ahego mean? Or ahegao? If you aren't a fan of hentai this might be a show stopper for you! Ahego / ahegao is typically viewed as an 
exaggerated facial expression of characters during sex, typically with rolling or crossed eyes, protruding tongue, and slightly reddened face, to show enjoyment or ecstasy. 
What is hentai? Hentai is a form of pornography. 
About Neko Boi Tied Up Rope Bondage Hard Enamel Pin:
You will receive 1 Ahego neko pin.
Please check out the other variants of the kawaii boi. 
Ahego Neko Boi pin stands at 1.75 inches.
This Neko Boi hard enamel pin features posts with a rubber clutch backing.
A grade - no real visible flaws.
B grade - small flaws like over buffed metal fill or low enamel fill.
Neko Boi Hard Enamel Pins are Designed by:
Miss Myzaree. Drawn by Akire. Callmeakire on instagram.
Did you know when you support my shop you're not only supporting a small business but 10% of every purr-chase is donated to charity. This includes pre-orders! Not only are you getting a great steal but you are also contributing to a brighter better future.