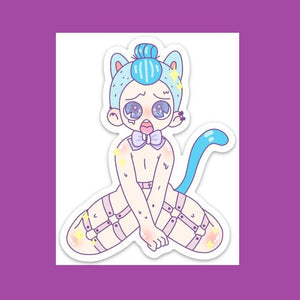 Pastel Ahego Neko Boi 3.12" x 4" Vinyl Sticker
Take home your very own Ahego neko boi! 
3.12" x 4" die cut sticker.
Original concept design by Miss Myzaree. Design created by Akire for Dark Delights Shop.
Did you know when you support my shop you're not only supporting a small business but 10% of every purr-chase is donated to charity. This includes pre-orders! Not only are you getting a great steal but you are also contributing to a brighter better future. 
Updated: 9/14/18