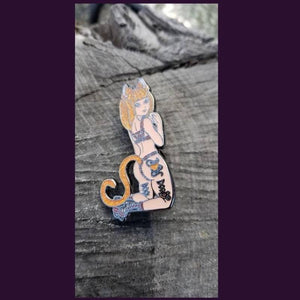 Don't Call me Pumpkin Neko Me-ow Hard Enamel Pin
Dark Delights Shop Con Exclusive Call me Pumkin Neko Girl Me-Ow Hard Enamel Pin
This delightful hard enamel pin depicts yours truly as a little nekogirl by my friend Ironyokai. 
Into Petplay?  This Call me Pumpkin Neko Girl Me-Ow Pin is a purrfect gift for the cat girl in your life.  Accessorize in style and get one today.
What is a neko girl, you might ask? 
A Neko girl is a cat-human hybrid who is looking very much like a person, but with additional features like cat ears, tail and sometimes, paws. Super cute and twice as cuddly.  Purrfect to pair with the Neko Boi in your life. 
About the Call me Pumpkin Neko Girl Me-ow Hard Enamel Pin:
Each Neko Girl Me-Ow pin stands at 1.75 inches.
Each Call Me Pumpkin Neko Girl Me-Ow pin features orange glitter in the ears, hair, tail, and heart tattoo.
Each Sexy Neko Girl Me-Ow pin features gun metal black raised metal plating.
This kinky pin features a text backstamp that reads "Ironyokai x Miss Myzaree".

Each pin features dual posts with a rubber clutch backing.
This pin is ready to ship! Please allow for 5 business days for handling and processing excluding shipping time.
Collector Grade / A grade - no real visible flaws.
Standard Grade / B grade - small flaws like over buffed metal fill or low enamel fill.
Wear Me - multiple flaws.
Neko Girl Me-Ow Hard Enamel Pins are Designed by:
Original art created by Ironyokai for Dark Delights Shop based on Miss Myzaree.
Did you know when you support my shop you're not only supporting a small business but 10% of every purr-chase is donated to charity. This includes pre-orders! Not only are you getting a great steal but you are also contributing to a brighter better future.